Is your child starting school in September 2018?
Enrolment for admission to Primary School opens on Wednesday 29th November.
Please use the link below to download an application form.
Call into school if you need a form we can always print one out for you!
Thinking about St Mary's P.S.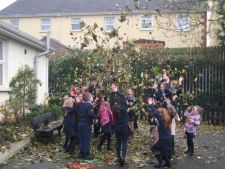 HOW TO MAKE THE RIGHT CHOICE

Please contact the school at 02887738388 or by email: mhamill472@c2kni.net to arrange a 'Guided Tour' of our school, see our school in action, view the P.1. indoor and outdoor classroom, meet the staff and let us answer any questions or queries you may have.
HOW TO ENROL
On Wednesday 29 November 2017 information will be published about applying for a primary one place in September 2018. Application forms will also be available for download and will need to be returned to the first preference primary school by 12 noon on 10 January 2018
What's on this week?
Mon, 18th Dec 2017
Full Attendance Treat (Bring your onesie and slippers )
Tue, 19th Dec 2017
Traditional Music lessons P4-7
Stewartstown PS Nativity Play (P1 and 2 )
Christmas Confessions (P5-7)
Wed, 20th Dec 2017
School Mass (10am)
Fri, 22nd Dec 2017
School closed @ 11am (Christmas Holidays)
Halloween 🎃 Celebrations
St Mary's Primary School
Believing, Achieving, Succeeding
Welcome to St Mary's Primary School website. We hope that our website supports us in being an accessible and welcoming school whilst also providing us the opportunity to share some of the wonderful things that go on in St Mary's.
This website is a window into what life at St. Mary's is really like. It will provide you with up to date information on what is going on in each of the classes; who has been visiting; dates and events that are scheduled to take place; displays of children's work and information regarding school policies including the school prospectus and Annual report.
For parents we have a dedicated section for you, including any relevant updates from the various education bodies and direct access to websites that may support your child's learning at home.

The site will be updated regularly with news, events and all the latest school activities.We hope you find our website useful, accessible and enjoyable.
What's Been Happening at St. Mary's?
Heartstart Life Skills programme
Make a CEOP Report
Use this button to make a report if you feel unsafe online. Tell someone you trust too.
P3-4 Drumming with the SELB orchestra
St. Mary's Primary School, 22 West Street, Stewartstown, Co Tyrone, BT1 5HT Telephone:028 877 383 88 Email: mhamill472@c2kni.net