Mrs Duffy's class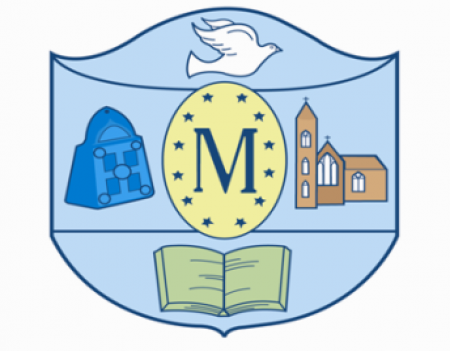 News in and Around our school
Look what we got up to in Mrs Duffy's class in 2017-18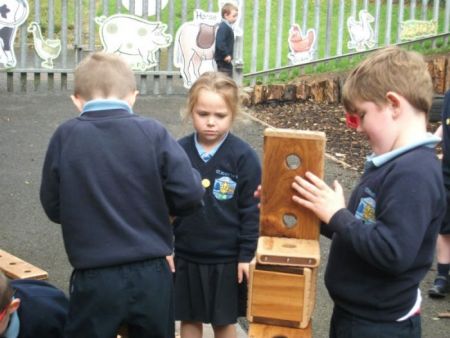 Mrs Duffy's class enjoying time in our new outdoor area
Learning in Term 1
Literacy
Story with a familiar setting
Poem with a familiar setting
Instructions
Rhyming words and poems
Information text
Legend/Story from another Culture.
Poem by a significant Author.
Information Text.
Alphabetical order, a/an, labelling, adjectives, Nouns, Collective nouns, proper nouns, Opposites Conjunctions, Compound words,
Writing Genre: Report
Linguistic phonics - Stage 4 (P3) Stage 1 (P2)
Spellings and High Frequency words.
Useful websites: http://www.familylearning.org.uk/phonics_games.html
http://www.bbc.co.uk/schools/websites/4_11/
Numeracy
Counting properties of numbers and number sequences.
Place value and ordering.
Place value and money
Understand the vocabulary of comparing and ordering number.
Understand the operation of addition and subtraction and the related vocabulary.
Rapid recall of addition and subtraction facts.
Problems involving 'real life' and money. Making decisions.
Problems involving measures.
Time.
Estimating
Use mental strategies to solve simple problems set in 'real life'.
Length
Reasoning about Shapes.
Shape and space.
Organising nd using data.
Useful websites: http://www.bbc.co.uk/schools/websites/4_11/site/numeracy.shtml
World Around Us
If you go into the woods.
Creative and Expressive/Arts
Use of space, methods/ speed of travel, sequence movements, awareness of movement variation, dance, demonstrating/ performing, co-operation, response to stimuli(music), improvisation, rope jumping/landing/swinging/handling/ hitting/ kicking skills using a variety of equipment. Ourselves self portraits, painting, printing, working with textiles, making 3D structures, using oil pastels, pencils, examining the work of artists, appreciating each other's work. Identifying sounds and describing them.
Religion
Belonging, Jesus, Christmas, Mass, Reconciliation, Easter, Creation.
ICT
Communication, information handling, modelling and controlling strands covered through word processing,
PD and MU
Getting to know me, Families, Feeling Good/Feeling Sad, Why Should I.
Media Initative: 'We can stop bullying' and 'Tom helps out' messages.
Learning in Term 3
Literacy
Reading groups/individual/shared. Discussion. Big Books. Contents page, author, illustrator, Comprehension activities. Information Book, Extended Story, Drama/Role play. Grammar: Commas, contractions, verbs, plurals.Writing Genre-Explanation. Spellings. linguistic phonics. Word building. CVC Words. Onset and Rime. Initial blends. Medial sounds. Sound books. Writing Genre: Report
Numeracy
Counting, properties of number and number sequences. Counting on and back in 1's, 2's, 3's, 5's and 10's to 20, to 100. Use + , -, = signs confidently. Partition 2 digit numbers into Tens and Ones (T&U). Place Value, Ordinal numbers, more & less, estimation. Understand add and subtraction and related language. Rapid recall of addition and subtraction facts. Doubles. Mental calculation strategies. Using patterns. Solving problems. Reasoning about number and shape. Money to 20p/£1. Organise and use data. Measures - length, mass and capacity. 2D and 3D shapes.
The World Around Us
Cycle 1: On an Adventure
Cycle 2: Weather Watchers
PE
Perform simple dance steps/movements to music. Develop gymnastic skills using a variety of apparatus (climbing frame, benches, mats etc). Sports Day practice and activities.
Creative and Expressive Arts
Summer. The Beach. Water. Make 2D and 3D related art work. Recognise, explore and play different sounds and instruments.
RE
Cycle 1:Theme 8:The Church, Theme 9:Baptism, Seasonal Theme: Mary, Theme 10: Grow in Love
Cycle 2: Holy Week and Easter; Jesus is still with us; Creation; Inter Religious Education; Grow in Love
PDMU
Cycle 1: I am. You are. We can. Keeping healthy and safe. Where I live. Accepting compliments. Using appropriate voice/tone.
Cycle 2: Keeping Healthy and Safe, Where I Live
ICT
Interactive Design
Listen to P2/3 read 'Jack and the Beanstalk' with our sound effects added. Enjoy!
St. Mary's Primary School, 22 West Street, Stewartstown, Co Tyrone, BT1 5HT Telephone:028 877 383 88 Email: mhamill472@c2kni.net